Queen Cit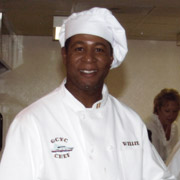 y's café serves breakfast on most weekend mornings and lunch on Fridays, 
even during the summer months, due to last year's turnout.
We also offer catering services by our chef, Willie Williamson.
"Good food makes everybody happy." That's Willie's philosophy, and it shows with every meal he prepares.
"If it's not right, you won't get it at QCYC," he promises. In fact you probably won't get it if Willie hasn't tried it out at home first.
Willie Williamson (QCYC Chef)
(253) 632-5303 | Email Chef